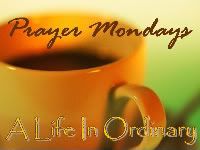 Not a lot to say today.
Prayer Requests
1. That God would heal my body so it would work the way it's meant to.
2. My Favorite
3. That God would prepare the hearts of the women who will be attending Women's Bible study. As our opening day approaches, I always get a little nervous.
4. I've been dealing with a bit of anomosity from a few fellow congregants. I don't want to get into details or disgrace anyone, but I do want to make sure I'm doing the things God has called me to do. After that, I want to be able to disregard the opinions of others. I have a real problem concerning myself with the opinions of others when I know what they think is none of my business. What matters is what God is thinking of me.
5. We're trying to close on our loan at the bank, but it's requiring a lot of extra time from Chris (to complete projects the bank has declared MUST be done). We'd like to be finished by the end of the week. Pray for us.
Prayer
Father, a few women have committed themselves to praying on a daily basis--both for themselves and the requests of others. I pray that Your will would be clear to them. Please reveal Yourself this week. Touch the hearts of those who are making these requests and meet our need for You.
Amen.