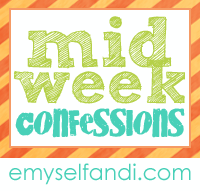 * Weight Watchers is...easier this time around? (You know, for the whole two days I've stayed on it.) I think maybe because I'm committed to cooking and it isn't about getting as much food for as few points as possible. I don't really much worry about those points except to stay in the limit I've been given for the day. If I eat something for lunch, I just track it. If I only have 10 points left for supper, I do try to keep portion sizes small. But I've found I'm less hungry in the evenings so it isn't as big of a deal.
* Tonight? Lentil Stew with Cornbread Dumplings. It's a crockpot recipe, so I have little prep. (BigAl, I'm sending the recipe tonight! I want to try it first so I can tell you what I think.)
* Cooking every evening was a bit ambitious for a couple of reasons. 1. My fridge was overflowing with leftovers. I was taking them for lunch and Favorite was eating, but we still couldn't keep up. 2. I don't get home until 6 on Tuesdays and Thursdays, so cooking on Tuesday nights may not happen.
* I love my classes this year. Love. Them. They want to talk about what we're doing, and I think conversation is the best way to learn, so I'm happy to comply. Mostly, I just enjoy their personalities. (Even when they tell me I'm old. Or I'm letting myself go. Or my makeup could use some work.)
* I'm the worst laundry lady ever. Ever.
* Sometimes, even when I've committed to saying as little as possible about an issue, I end up running my mouth. It doesn't help. It makes others view me in a bad light, and it makes me less than happy with myself. Most of the time, I talk out of frustration. But I hate that I can't just close my mouth when I'm frustrated.
* I broke my resolution to watch my mouth a couple of times this week. But most notably? This morning...when an 8-point buck was standing 4 feet from my car as I drove by and I didn't see him until I didn't have time to stop. First I said it. Then I had to keep myself from doing it.
Join MidWeek Confessions by clicking the above button. And if you're interested, let me know what it is you want.