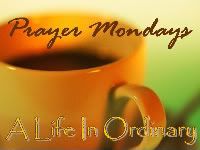 *Note To New Readers: Prayer Monday is NOT a closed group. Participate by sharing some of your requests on your blog and linking to this list. Then, read, say a quick prayer and comment on each participant's blog. We could all use a little encouragement and a lot of prayer.*
"We do not know what we ought to pray for, but the Spirit himself intercedes for us through wordless groans" (Romans 8:26).
I don't know how to tell you what I need, but I know my life isn't as in tune as it should be. I want to be OK with God's plan for my life, but there are moments when I struggle with desires I honestly have wished would just go away if they aren't part of His plan for me.
I struggle with being overjoyed at His provision and upset that provision can be a game-changer.
I miss my closeness to Him.
And you? Where are you?