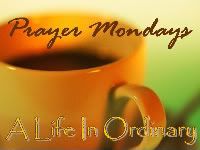 I'll be back later today to post something else, but I forgot to schedule this last night and I wanted to get this up and running for those who participate.
Today, my brother and STBSIL fly to Ohio to find a place to live. God has clearly ordered their steps to this point, and we believe He will continue to do so as they try to find a new residence. All I ask is that you pray peace in their hearts and a sense of "this-is-it" when they find their new home...oh, and that it will feel like coming home when they step in the door.
I feel like there are some really cool turn-arounds going on in my Christian journey. I'll try to post later tonight to give you a quick update and post some pictures of the first wedding shower :)
For now, link up.