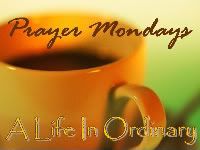 Big Bro left about seven this morning to head to his new home in Ohio. We had a nice breakfast send off, and we are all (as a family) anticipating great things for him in a new place. He's making a home and a life for himself, and I think that's fantastic.
But we'll miss him. He's such a constant, steadfast person. And we become comfortable with what we know.
Please pray for him as he makes adjustments. Pray for my STBSIL as she makes her way without him for the next few weeks.
We're still praying for confirmation regarding a church. We didn't go this morning because we were up fairly early to say goodbye to Big Bro, and Favorite had to work today. So it was a better idea to catch some sleep before a family dinner with his family. Next Sunday will be a different ballgame.
Pray for our family. Changes abound, ya'll. And while we're happy for so many of them, there's an element of fear that accompanies a lot of change all at once. We would certainly covet your prayers for peace in so many different ways.