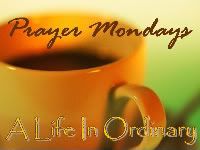 *Note To New Readers: Prayer Monday is NOT a closed group. Participate by sharing some of your requests on your blog and linking to this list. Then, read, say a quick prayer and comment on each participant's blog. We could all use a little encouragement and a lot of prayer.*
Favorite and I visited another church on Sunday. A friend of ours actually attends this church, and we decided to give it a shot because it is a multi-ethnic church and Kevin has made such a great home there.
It was definitely a different experience for us. Nothing like what we're used to, but I came away from that service with one thing firmly planted in my mind: those people love Jesus. They do. Unabashedly. Unapologetically. And that relationship gives them a genuine love for other people.
Everyone was joyful. It was easy to tell that they really believed in what they were doing. I spent most of the service holding back tears because God's presence was palpable. I just kept wondering: how long has it been?
We're going back next Sunday because we had to leave the service early so Favorite could get to work. Then we're going to revisit the church we went to last Sunday so we can make a final decision. I'll be honest. It's going to be a tough decision. We would appreciate your prayers as we try to follow God's leading. We also covet your prayers for our former home church.
Big Bro is spending his last week at home. He leaves next Sunday for the next chapter in his life. Pray for STBSIL since she will be staying here until after the wedding. Favorite and I know how hard it is to be apart, and this will be something new for them. Also, Big Bro will be starting his job--you know, the one you all prayed for :)
God's hand is heavy on our lives right now. I know that's always the case, but sometimes it's easier to feel. This is one of those times. It's clear these things have been orchestrated by the Almighty and we want to glorify Him for His goodness. We'd like to see Him continue moving in several other situations, too.
I appreciate your prayers for us :)