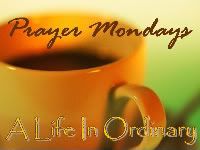 I'm going to change the rules in the game a little bit. I think it might be easier to pray for one another if we do two things:
1. Share where you are and what's going on with you (i.e. prayer requests).
2. Visit each participant's page and pray for them in that moment and leave a comment.
We can do these things in leiu of writing an actual prayer, and I wonder if it won't make us more purposeful in praying for one another.
Currently, I'm in a place where God is calling me to obedience. I'm a "do it m'self" girl by nature so you can imagine that this is a difficult place for me. But I don't believe God puts us in positions if it isn't for our own well being. I know He is teaching me and protecting me.
This doesn't mean I've been successfully obedient this entire time. Thankfully, I'm seeing God's grace in a way I don't think I've ever seen it before. I also received a reminder during study this week that God rewards obedience.
But you can pray that God would draw my heart to Him during this season. I want to know I'm doing what HE'S ASKING me to do. Please pray that my heart would be open to hearing Him. I'm expecting Him to be big during this time, because I'm clearly going to need his intervention. I'm also asking Him to draw my heart to scripture and prayer. I'm getting ready to have a lot of free time so I'm going to make every effort to commit the beginning of the day to these things.
While it may sound weird to you, one of the things I feel God is asking me to do is trust Him as my only hope--not medicine. Please don't take that the wrong way, because I'm a complete and total believer in God's ability to heal through medicine. I'm just positive He told me that enough is enough. That said, I will need to commit myself to very specific eating habits and exercise habits over the course of this summer. I need your prayers for my will power. I know an occasional cheat is acceptable, but my body doesn't process a whole list of foods the way it's supposed to; therefore, I need to be mindful--and I need your prayers to believe that it matters. This is part of my obedience to Him.
I know He's moving, girls. I've already seen evidence--in my life and the lives of others. But that's not enough for me anymore. I want more of Him. And I want Him to push me to an intimacy I used to know.
I'm praying for you.