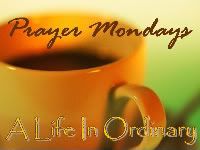 I'm so sorry that this isn't getting up until this morning. I will likely come back and edit my prayer requests later today, but for now, I just wanted to make sure that you all had something to link to if you participate.
We're hoping to get our internet problem fixed by the end of the week. Until then, my blog is rather neglected ;(
This week is going to be fairly crazy at school. It's the last week for the seniors (which doesn't really affect me), but I also have to make sure to come up with things to keep the sophomores busy for the next 2 weeks or so... Unfortunately, I'm venturing into new territory because the Title I students never moved this quickly. Pray that God will inspire my lesson plans!
Link Up! I have been praying for each of you.