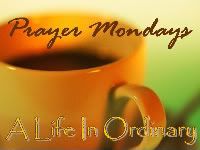 I love quotes, but when it comes to Christian living, I've never been one to offer some saying and expect that it will fix all of life's problems. So you can imagine that what I'm about to say was a bit shocking to me, too.
I read something on
pinterest
this week that caught my attention: "What if the blessings we have today are only the things we thanked God for yesterday?" Again, I'm not one to base my entire existence on one flip statement, but since God has been speaking to me about praising Him (and discipline. Always discipline. It's the neverending lesson), this caught my attention.
I know God is good, but I don't often enough tell people how good He has been to me. He gave me salvation, and continues to teach me--even when my spirit is less than teachable.
He's drawing my family to Himself. And He always does it with sincerity and patience.
He knits congregations back together and gives each person participating purpose. He has fulfilled needs in my life in natural and supernatural ways.
And I know He's going to continue to meet my needs. He's teaching me to bring things to Him. Sometimes the simplest requests seem a bit asinine, and yet He answers: like a prayer for grass. Praise God, it's starting to grow!
He's growing Himself in my heart. I'm still asking for Him to heal my body and draw Favorite and I closer to Him. Please continue to pray those things for us.
This week I'm starting
Get Out of that Pit
by Beth Moore. I'll probably provide updates as I get going, because I know there are continuous pitfalls in my life I need to learn to give over to Christ. But I honestly want to praise Him for how far I feel we've come in the last few months.
And thanks to you for being a part of that.