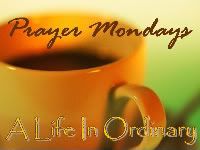 I want to get into the habit of purposefully praising God--not just for what He has done, but for who He is. So, ya'll, I need to tell you how good He is. He's answering prayer in my life. He's continuing to meet with me--even when I get a little too busy to make ample time for Him. He's still calling me to obedience. He's teaching me about authority. But He's been so...tangible? lately.
We just finished our last week of Bible study. I'm going to miss it. Those women have been a lifeline for me. I can't even begin to tell you how deeply I've struggled over the last year; I can't tell you how very much I needed to sit in a group of women and cry and ask questions about how to honor Him through hurt. I also can't tell you how many different ways God met me in my exact need.
I'm still praying several things: for continued obedience, namely. I want to walk in the center of His will. I want to maintain a teachable spirit and seek Him first in my life. I'm still praying for His touch on my body. I believe He is healing me, but I don't know what that will mean for my future. I just want to honor His calling--and if that means maintaining no action as of now, I want to be at peace in that obedience. I'm still praying for Favorite and his heart and for a few friends and family members who are going through tough times right now. I don't want to dishonor anyone by sharing things they want to remain private, and a few of them post their own requests so there's no need for me to butt in.
I will share this:
Tara
, who normally participates in Prayer Monday, will be making her trek back home with her new daughter, Macy, on Thursday. Pray for her safety in travel and her newest family member. Sometimes the best piece of encouragement you can have is to know that someone is thinking of you.
Don't forget to leave comments. A little encouragement and a lot of prayer go a long way :)