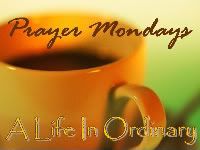 I mentioned last week that I was going to start
Get Out of That Pit
by Beth Moore. Here are a couple of things I feel you should know:
1. The book is short. Each chapter is really short.
2. It's written in an extremely relational style so it doesn't become overly encumbering.
3. It is written for people who are already Christians--not those looking to come to Christ.
In one part of the book, Beth recounts how her husband, Keith, has said, "I wonder what kind of person I would be if I wouldn't have gone through all of this stuff." Beth said the Holy Spirit spoke through her when she responded, "Honey...You're a much neater person
healed
than you would have been well" (44).
I don't think that response means we seek out sin just so Jesus can heal us. Instead, I think it calls us to recognize the healing He has wrought in our lives through some horrendous circumstances--sometimes ones of our own making. It's a recognition of who He is, and who we are as a result.
Mostly, this book is blessing me because I need to be reminded that I haven't been forgotten--that God is right here and He WILL be glorified.
This week I wish you would pray that for Favorite and me. I want God to be glorified in my life. I want Him to draw me closer to Him and push me into a deeper relationship with Him. I want to talk openly about what He is to me--even when I'm not purposefully pushing myself to talk about Him. I want Him to give me a heart for ministry--for people. And I need a heart that is tender and compassionate without losing an ability to offer tough love when necessary.
Whew. That's a lot to pray, but I appreciate your tenacity in prayer. I'm praying for you.
http://www.blenza.com/linkies/autolink.php?owner=cryshouse&postid=27Jun2011">>
http://www.blenza.com/linkies/autolink.php?owner=cryshouse&postid=27Jun2011">>