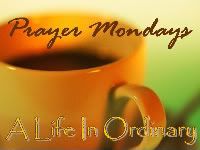 I've been thinking a lot about something Paul says in the New Testament: "For I have the desire to do what is good, but I cannot carry it out. For I do not do the good I want to do, but the evil I do not want to do—this I keep on doing.Now if I do what I do not want to do, it is no longer I who do it, but it is sin living in me that does it" (Romans 7:19-20).
There are a lot of things I don't want, and there's nothing more frustrating than finding myself doing those things anyway.
I hate it. Hate it. And I don't know how to ask you to pray for it. But I know you're creative so I'm trusting in your prayer creativity. I don't want to be a mean person. I don't want to be bitter. I don't want a thousand other things. Pray for those things.
I am also praying for several cancer-related situations that have my heart really concerned. Also, my brother has a job interview this week so I'd like that you would pray God's will for him.
And please keep praying for my Favorite. Always pray for him.
Prayer matters, right?