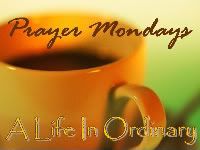 *Note To New Readers: Prayer Monday is NOT a closed group. Participate by sharing some of your requests on your blog and linking to this list. Then, read, say a quick prayer and comment on each participant's blog. We could all use a little encouragement and a lot of prayer.*

I am a much better conversationalist than I am blogger...which is odd considering my anti-social tendencies. But that's close to what I wanted to talk a little about tonight.
Condemnation.
Life is hard under a microscope, and few people who feel they can't do anything right will try. You're going to have to trust me on this one.
Unfortunately, many of us have grown accustomed to treating our walk with Christ like a laundry list of do nots--then we crucify other people for committing those same acts all while requesting grace for ourselves.
I am no exception. And it breaks my heart to say that. I find it difficult to attend the church I'm in (and have been since childhood) because of the amount of condemnation I feel from many of the people there, but I often condemn people instead of bringing them to the fold and allowing God to make the transformation.
Understand that this doesn't mean you never make your thoughts known, but when you do, you have to be very careful about how you approach others. If there is no condemnation in Christ (and there isn't. Check Romans), then neither is it our job to condemn people. And that, ladies and gentlemen, can be a difficult road to navigate.
So I need your prayers on that front. I certainly struggle with condemnation, and with separating myself from others--generally due to some profound issues of acceptance within myself. So I'd appreciate your prayers there, too. And for my Favorite. Always for him.
I'm praying for you. Even when it's been a crappy week and prayer is the last thing on my mind. I appreciate your prayers for me.
Link Up.
(PS. I'm using linky tools for the first time--and probably from now on. Feel free to tell me how you like it. I can edit the type of linky list I use--once I figure out what I'm doing.)