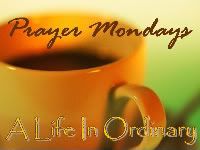 I'm in a season of my life where I just
feel
like I can't do anything well. Please keep in mind that I said "feel" because I know it's not true. I've just been so preoccupied. Favorite has brought that to my attention in the last week--not that he needed to. I know I'm preoccupied. Sometimes my heart just aches, and I feel like I'm not even the person I used to be. That thought disturbs me. I'm still trying to work through it.
I long to be deeply satisfied with God. I know there was a time when I had that satisfaction. I know that we have to work at relationships in order to maintain that sense of satisfaction. But lately, I feel like preoccupation has taken over my heart. I don't go through a day that my mind doesn't wander. I don't do a Bible study without my mind wandering. Shoot. I can't even have a real conversation without my mind wandering.
So this week, my prayer requests for myself are simple.
1. I want God to grow a love in me for His word--a love that draws my heart to Him. I want that love to drive me to Him in prayer. I want that love to push me to welcome others (even when I feel it's awkward) and I need that love to find a deep satisfaction in Him alone--heartache or not.
2. I have some dear friends who are going through a private situation. They have received some conflicting information and are unsure as to what awaits them in the future. I know that any outcome here will come by God's hand, but I am certainly praying for healing for them.
3. My Favorite.
4. Please pray for the hearts of the women involved in Bible study. We need to find a way to depend and rely on each other--to require relationship from one another.
5. My father is still healing from knee surgery, but doing very well. Please pray for his recovery.
Father, I'm just asking that you pull me heart. I need to seek a depper relationship with You. There's so much going on around me and I feel like I'm missing it because my mind is not present. I don't want to miss the people and events that are meant to be a part of my life. I don't want to miss you speakingto me. I just pray that you would draw my heart.
I ask that you touch the women who participate in Prayer Monday. Touch Kate and Sheena as they go to a new work week. Help Tara find a church. Be with Casey. Guide Armanda as she and Steve lead a small group and minister to their son. Touch those who are joining for the first time or those who participate by reading. Make us witnesses, disciples, real.
Amen.
Link Up.