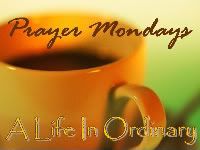 Some days there's just not a lot to say. I'm sitting silently before God today, girls. Just praying.
Praises
* It looks as though things in my body are looking up.
* Women's Bible study is really turning into such a blessing for me.
Requests
* My heart
* My family
* My women
No prayers today as I am just going to sit silently before God. I'm praying for a miracle. I love you for participating. I love you for praying. I thank you for interceding on my behalf.
Link Up.