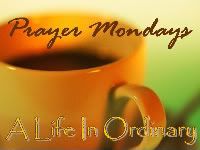 I hate to feel vulnerable. Hate. It.
There's nothing worse than to find yourself feeling self-conscious over things you can't help but feel and realize that you don't want the people you're with to know how you feel at all.
Catch that?
But here I am. In a season of vulnerable. In a season of can't-get-my-breath-because-of-the-panic-attacks-because-I-have-no-idea-what's-going-on-and-there's-nothing-I-can-do-but-wait-and-that's-not-really-my-strong-suit.
I'm anxious. And what I really want is peace. I'm tired of feeling anxious. I'm tired of worrying and praying and thinking and freaking out. I just want quiet. And I'm trying to figure out where God is in all of this when I know the correct answer is this:
X <------Right here.
Right in the middle of it. Consciously aware. Patient with my anxiety. But pushing me to vulnerability anyway. So I'm trying to embrace the vulnerable. Current Status: A little gripe-y. There's got to be a reason for the push to vulnerable, though, right?
If we all told the truth, I think we would all agree that we want to matter. We want our lives to make a difference in some way. Sometimes we're successful. Sometimes we're desperate to know what difference we make. Beth Moore calls that "eternity set in our hearts" because we were made for eternity. Unfortunately, that knowledge doesn't make us any less desperate to know that our lives matter.
I guess that's where some of my vulnerable is coming from.
Prayer Requests
1. I'm praying that God will heal my body so it will work the way it's meant to work.
2. I'm praying for the future of Women's Bible Study. I have no idea where it's going, but I know that God has placed me here. I don't want to be an ineffective leader. I'm praying that God will use me.
3. My Favorite
4. Peace in my heart
Father, I commit the women who pray weekly to You. You know their hearts; we learned in Bible Study that You are the knower of our hearts. I pray that we would just be honest before You. I pray that we would pour out our desperations, hurts, concerns, joys and lives before You. Help us to understand that there's no concealing anything from You. I pray that would be the catalyst that would help us deepen our relationships with You.
Amen.
Link Up.