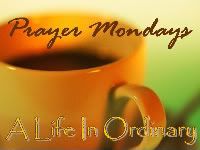 I am always nervous before Bible study begins. Those who know me might be surprised to find out that I'm still a little uncomfortable being in front of a group (particularly a group with high expectations) and I'm really nervous to be in charge of something. Simply put, I don't want to screw it up. And screwing up? Totally my spiritual gift.
I'm not even laughing as I'm writing this because it bothers me so much. I talk too much; I say the wrong things. They are pretty well guarantees in my day. Remember what I said about
encouraging others
? I'm really bad at it. Like, really, really bad. I'm honestly telling you that I'm often terrified that I'm going damage something I do beyond repair and I so desperately don't want that to happen--particularly in study.
I wonder if that's why God put David into our laps at this time in our lives. I wonder if there aren't women who feel the same way I do. I wonder how many of us spend the day thinking something is so broken it can't be fixed. It's my worst fear.
But my reassurance that this was the right study? Even though it's a study about David, Beth began by talking about Samuel. We read 1Samuel 1--Hannah's prayer. I've read the first two chapters of 1 Samuel so many times now, they should probably fall out of my Bible. But my heart was overwhelmed to have a simple reassurance from God.
Ya'll. There are things I want so badly from Him that I can taste it. Some of them aren't for myself. But I deeply want to be a woman after His own heart. And I'm deathly afraid that what I've cultivated in myself would keep that from happening--despite what I know about His ability to clean and save the worst of sinners.
But the best part? Tim's girlfriend, NutMeg, has joined study. She seems really excited about it--so much so, she invited another girl and that girl is likely going to attend. If that's not evidence that God is already beginning to move in lives, I'm not really sure what is.
But on to the purpose of this post:
Prayer Requests
1. My Favorite
2. Pray that God heals my body so it works the way it's meant to.
3. Pray for the hearts of the women involved in this study--that God would draw us closer to each other and closer to Him. Pray that we would be open enough to conduct a small group that would speak to each of us individually. Pray that God would guide me so that I can facilitate discussion and ask questions that would really bring us face-to-face with the things God is asking of us for this season.
4. My friend, Morgan, is pregnant. Please pray for a healthy pregnancy.
5. My friend,
Casey
, who has been off the grid this week. (Where have you been?! Seriously. I worry.)
6. My mouth
Praises
1. Women's Bible study. I'm so thankful for it. Those women, for the most part, have no idea how much I need them...how very much I'm encouraged by them...but mosty, how much I need them.
3. God has begun works at my house. I won't go into a lot of detail, but I know that he who begins a good work will continue it until the day of completion (Phil 1:6).
Prayer
Father,
Draw our hearts. That's truly my prayer right now. Draw them to You. Give us wisdom to speak Your words. Push us to our knees in prayer. Drive us to seek You in Your Word. This week, as we commit to prayer and study, don't leave us empty handed. Meet us where we are--so many of us are in different stages of life, but all of those stages seem to come down to one thing: Need. We need You, God. We all need so many things. We need You to be savior and deliverer. We need You to provide and heal. We need You to meet us and be real. We need You to mend hearts and minds, bodies and relationships. Help us to meet that need in You.
Teach us to seek You. Remind us it's all about You.
Amen.
Link Up.